P&H - CN165 Century 65 Ton Rough Terrain Crane
British Columbia, Canada
| | |
| --- | --- |
| Category: | Support - Mobile Cranes |
| Equipment Number: | CR81-24 |
| Manufacturer: | P&H |
| Model: | CN165 Century 65 Ton Rough Terrain Crane |
| Quantity: | 1 |
| Serial #: | 56393 |
| Total Hours: | 9694 |
| Year: | 1992 |
| Type: | Rough Terrain |
| Condition: | Good |
| Series: | Century Series |
| Tires: | Good |
$95,000.00 USD*
$109,250.00 AUS*
$47,500.00 PND*
$256,500.00 PEN*
$47,500,000.00 CLP*
*Alternate currency pricing is only an estimate. If a firm quotation in another currency is preferred please contact the equipment representative displayed with the advertisement.

Click to View Map

Printable Version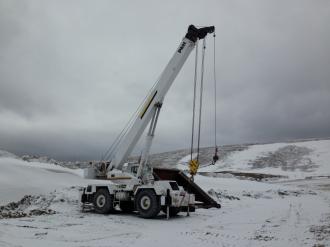 Unit recently parked. Availability is immediate. All maintenance records are complete and included.
Mine Site:
Highland Valley Copper
Contact:
Mario Talarico
Phone:
250-851-6461
Fill out the following form to request information about this item.
Fill out the following form to send this item's details to a friend or colleague.