Click here if you are having troubles viewing this e-mail.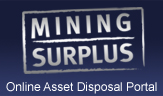 Vol 2010.04

Spring 2010

In This Issue

Equipment Links

Site Services

Interested in more information on posting your surplus mining equipment?
.

Interested in having equipment want ads delivered directly to your inbox?





Contact Us

The portal where Mining Companies market and manage their surplus mining equipment.

MiningSurplus.com Newsletter features:

More mobile, conveyors, crushers and mills have been added since out last e-mail blast. Give yourself 5 minutes and check out the latest listings.


Featured Listings

---

SAG and Ball Mills

For MORE Grinding Mills Click Here...

---

MiningSurplus.com Automated Subscription Services

Register and customize your profile for notifications you wish to receive. Equipment Notifications – Be the first to receive new listings posted by miningsurplus.com partners.

Want Ads – Looking for that special or hard to find piece of mining equipment? Post a Want Ad on MiningSurplus.com. It's FREE.


Copyright 2001-2010 Mining Surplus. All equipment listed is property of their respective companies.