New & Used Mining Equipment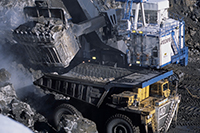 MiningSurplus.com features new and used mining equipment for sale from mining operations across Canada, the United States, South America, and Australia. MiningSurplus.com profiles surface, mill plant process and underground mining equipment from copper, lead, zinc, gold and coal mining operations. Please use the search tools below to search our new and used mining equipment and parts listings.
Mining Equipment Search
Search our equipment listings or select a category below to browse our listings.
Surplus Parts Search
To search for parts, use the search field below or try our advanced search.