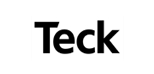 Teck Resources Limited
Suite 3300, Bentall 5
550 Burrard Street
Vancouver , British Columbia Canada
V6C 0B3
Phone: 604-699-4000
Fax: 604-699-4750
Web Site: http://www.teck.com
Teck is Canada's largest diversified mining, mineral processing and metallurgical company. Headquartered in Vancouver, Canada, we are a world leader in the production of copper, steelmaking coal and zinc, molybdenum and specialty metals, with interests in several oil sands development assets.

We own or have interests in 15 mines in Canada, the USA, Chile and Peru, as well as one metallurgical complex in Canada. We have expertise across the full range of activities related to mining, including exploration, development, smelting, refining, safety, environmental protection, product stewardship, recycling and research. We are actively exploring in countries throughout the Americas, Asia Pacific, Europe and Africa.

Teck is committed to creating value for its shareholders while continually improving its performance as a responsible corporate citizen and a leader in its industry. We pursue development of new technologies that make mining more economically and environmentally sustainable and strive to be a Partner of Choice wherever we operate and with whomever we are associated.
Teck Resources Limited Operations