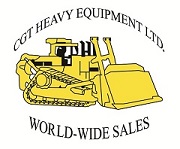 GDT Trading Ltd.
27265 Ellis Rd
Acheson, Alberta Canada
T7X 6N3
Phone: (780) 962-4848
Fax: 7809624847

GDT Trading Ltd. is located inAcheson, Alberta, Canada. We have over 45 years experience and expertise in the sales and purchasing of good quality used construction equipment worldwide. We specialize in buying and selling of all types of construction, forestry, mining, trucks, trailers, oilfield and crane equipment. Should we not have it in our inventory, we will do our utmost to locate it for you at a price that will save you money. We pride ourselves in treating our past, present, and future customers with the utmost integrity and honesty and with a high standard of business ethics. Please contact us for all your construction equipment requirements.
GDT Trading Ltd. Operations
27265 Ellis Rd
Acheson, British Columbia Canada
T7X 6N3
Phone: (855) 962-4848